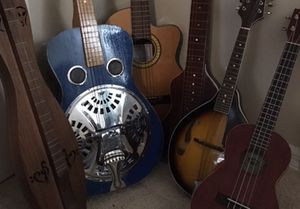 about
JD's Joint is a music production team based in the Nashville area. We specialize in recording Instrument overdub tracks that can be imported into studio recordings. We have provided tracks for award winning producers, award winning albums, and indie recording projects all over the globe. We have credits on #1 songs, #1 albums, and TV networks.
(we also produce Singles & Albums)
SONGWRITERS / ARTISTS / BANDS / PRODUCERS:
If you are already in the studio working on your music, and you need a professional musician to add Instruments like Fiddle, Dobro, Mandolin, and Pedal Steel to your recording, we'll record the Instrument you need, then send you a professionally recorded and edited .wav file to import directly into your session. It's quick & easy, and it doesn't matter if you are in the Nashville area or if you are on the other side of the planet, your tracks are delivered online!
Instrument list
Here is a list of Instruments we can record for you: 
Fiddle - Dobro - Banjo - Mandolin - Piano - Organ - Mountain Dulcimer - Accordion - Lap Steel - Pedal Steel - Violin - Viola - Cello - Ukulele - Acoustic Guitar - Electric Guitar - Classical Guitar - Bass - Full Orchestra Tracks
A large majority of our work is in the Country Music genre, but we like all styles of music and have recorded Instrument overdubs for other genres including Rock, Pop, Rap, Americana, Irish, Celtic, Folk, and others.  
Check out a sample of some of the work we have done 
JD's SAMPLES